A couple months ago, we hosted a week of community-led SCOM workshops and networking. These hands-on workshops took a deep dive into a series of topics handpicked by the SCOM community itself – and we are thrilled that the community found it valuable, as we learned from our post-event survey.
Keep an eye out for the next SCOMathon 2021!
Overall rating of SCOMathon Workshop Week
Overall, attendees rated SCOMathon Workshop Week a 4.36 out of 5.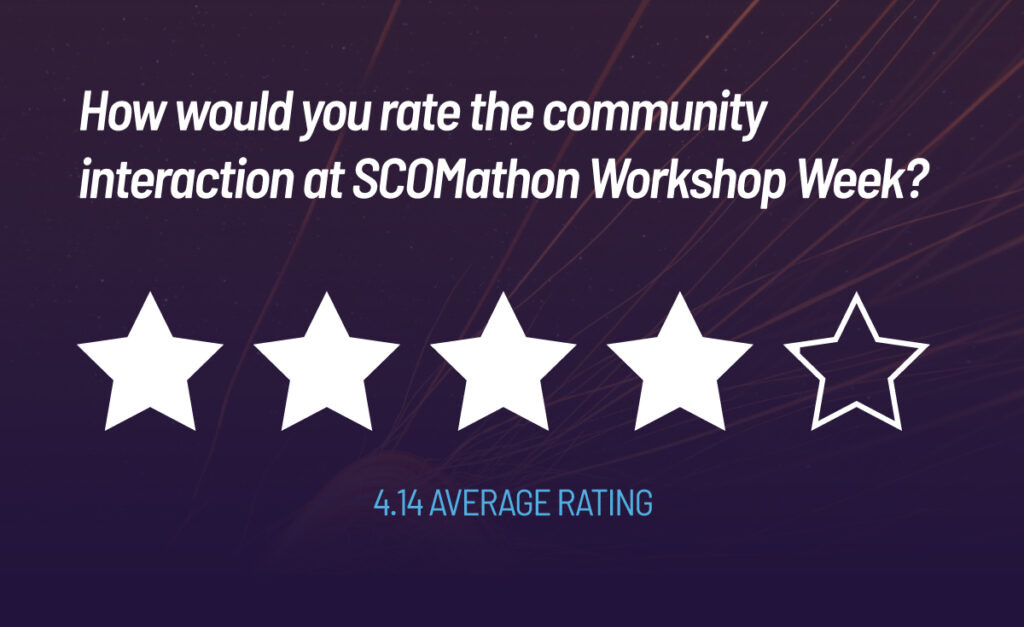 Community interaction at SCOMathon Workshop Week was rated 4.14 out of 5.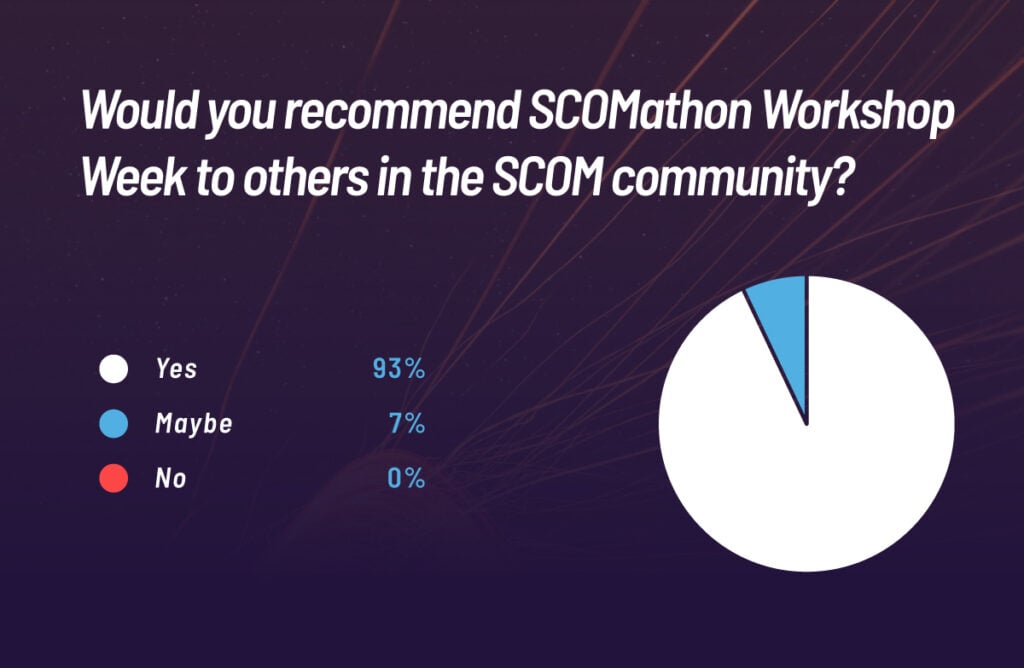 93% of respondents said they would recommend SCOMathon Workshop Week to others in the SCOM community.
100% of respondents indicated that they would or might recommend the event.
Favourite sessions
The MP Authoring session was most popular, with 78.6% of respondents rating it a 4 and above out of 5.
The next most popular sessions were Alert Tuning, Reporting and Auditing and SCOM Management Group and Database Tuning which had 71.5% and 64.3% of respondents respectively rating it a 4 and above.
Feedback
"This was my first SCOMathon and I enjoyed it."
"I enjoy keeping up with what is new with SCOM."
"Overall initiative of this SCOMathon Workshop is really appreciable. It is really useful."
We'd like to say a big thank you to everyone who attended SCOMathon Workshop Week and responded to our survey. We are delighted that you found the event beneficial and look forward to providing the SCOM community with even more opportunities to learn and connect!
SCOMathon 2021
If you missed out on SCOMathon Workshop Week or are itching to learn even more about SCOM, stay tuned for the upcoming SCOMathon 2021.
SCOMathon is the biggest virtual SCOM conference and this year, it will be held from 8-9 June 2021 via livestream over Zoom.
In preparation for the event, we have opened up the call for speakers. If you would like to speak at SCOMathon 2021, we want to hear from you! Also, SCOMathon will be open for sponsorship for the first time.
Check out SCOMathon for details or to register, and keep your eyes peeled for more!
This blog was originally published on squaredup.com